I recently attended Spicola at Texas Woman's University. This is one of two amazing conferences that TWU hosts. Spicola is completely FREE for educators and provides multiple breakout session to choose from. This year, one of the keynote speakers was Dr. Kathy Short, a professor from the University of Arizona. She is a professor in the program of Language, Reading and Culture and director of Worlds of Words, which is an initiative encouraging dialogue about children's literature and global cultures.
Prior to attending this forum, I decided to write a blog post about storytelling. I come from a family of natural storytellers and I believe this has shaped my love for literacy. After hearing Dr. Short's keynote speech, I knew I must share her story. In this post you will find the thoughts, ideas, and research from Dr. Short and a splash of my own thinking. I encourage you to visit her websites (wowlit.org & createarizona.org) to learn more about her work.
Constructing Our World through Story
Dr. Short's work explores story, or what some would refer to as narrative. Story isn't the book that a child holds but how our mind works. Dr. Short explained that story is not a genre or a stepping stone into more complex texts. Narrative structure is embedded in all well-written or engaging texts. Story is a part of who we are and the why behind the what.
Think about it, what stories shaped you?
For me, it was the elaborate stories my mother told. Since we moved around a lot, we spent a lot of time driving in the car or riding on an airplane. My mother filled the time with story after story. Her voice and the narrative arcs soothed me as we made huge transitions. Her stories shaped me as I grew up and provided consistency in a life that was always so unpredictable. She is the reason I fell in love with reading and writing. Even as a struggling reader, I found joy in reading and writing. I wish my teachers discovered this love and brought it out at school. For me, literacy was at-home. I would guess that this is the case for some of our students, also.
Dr. Short shared that she was not raised in a literacy-rich environment. She never saw a book until she entered school. She was considered at-risk. She said, "I'm here today because of story."
Stories that shape our lives don't have to be physical texts. For me, it was the art of oral storytelling. For others, it may be film, dance, or art.
Our students bring their own stories with them to school. It is our job as teachers to welcome their stories and celebrate the diversity of our classrooms. Stories provide ways for children to understand themselves and their families. Stories can help kids find commonality with each other, even if their lives seem so different. They can also bring a global and cultural respect to others. Stories are ways for children to access their own funds of knowledge.
Dr. Short's research focuses on global literacy. She firmly believes that even the littlest kids can think globally. Below you will find two different projects that she has started in schools in Arizona to help children share their stories and experience global literacy. This is something that takes about ten minutes a day but provides endless opportunities for kids to share their own stories and appreciate the stories of others. These are ways to tell students, "YOU MATTER!" I hope that you will find a way to incorporate these ideas into your classroom.
For more information, check out wowlit.org or createarizona.org. These websites list detailed ways to implement these in your classroom along with book lists of high-quality literature.
Cultural Community Story Boxes (Pre-K)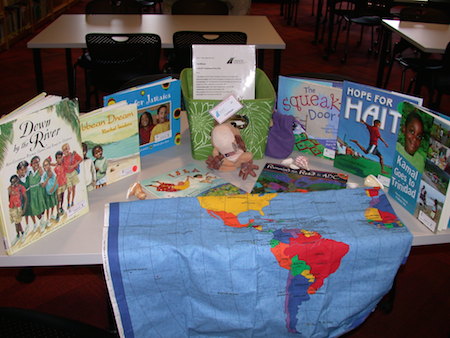 Multiple boxes that represent different cultures around the world

Help students value differences as a resource, not as a separation

These don't teach kids facts about different countries or cultures but immerses them in story about different culture to open their minds

Boxes contain artifacts that represent the different cultures and how they experience play

Boxes contain books with real photographs to give actual representation about the countries and cultures

Boxes contain books written in the perspective of someone from that culture

Boxes are introduced to children and then put in a place where they can explore themselves

Students construct their own experiences from the materials in the boxes

Provides a natural way for students to find commonalities between different cultures. You can ask:

What do you notice about this child?

How is this child the same as you? How is his/her ____ like yours?

How is this child

different

than you? How is his/her

_____ different

than yours?
Family Story Backpacks (K-2)
Each classroom has about 6 backpacks and rotates about 4 at a time

Students take the backpack home for one week and return it on Friday to share

Each backpack contains three books (1 nonfiction and 2 fiction)

Each backpack contains a journal so families can share their own stories

The journal stays in the backpack so families can read each other's stories

This is not about "how we do school" but "how we are as a family"

Some examples include
o

Grandparents are the best
Dr. Short has been implementing these two projects in Arizona schools for three years with her teacher candidates (student teachers). She has learned a lot over the years and explained that it did take time to work out the kinks. She has not taken this past grade 2 since the idea of a backpack might not work in upper grades.
I wonder if any of you have an idea of how you can take these same ideas into your classrooms. Comment below if you have a suggestion or would like more information on implementing this with your students.
-Macie
For more reading by Dr. Short, check out these titles:
Short, K. G., Schroeder, J., Laird, J., Kauffman, G., Ferguson, M., & Crawford, K.M. (1996).
Learning Together Through Inquiry.
York, ME: Stenhouse.
For a complete list of her publications, click here.